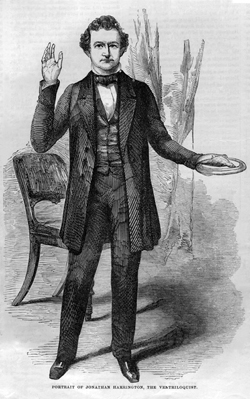 Walk back in time with Andrew Pinard as he performs as nineteenth-century performer Jonathan Harrington. Premiered at Canterbury Shaker Village in Canterbury, NH, this is the perfect program for humanities programs, historical societies, conferences and living history events.
Jonathan Harrington (1811-1881) was one of the earliest American magicians. Born in Boston, Harrington began his performing career as a ventriloquist in 1826, and subsequently added fire resistance, conjuring and exhibitions to his performances. His shows became increasingly focused on magic with a small section devoted to ventriloquism and mimicry. His great skill and the public demand for his performances made him a New England icon with annual Fourth of July performances in Boston Public Garden. His success allowed him to purchase the New England Museum where he presented shows and exhibitions including his acclaimed "Burning of Moscow" and the contents of a second exhibition, Kimball's Boston Museum. He sold the museum and went back on the road performing throughout New England with additional trips to Philadelphia, as well as, short forays to the South and West. At one time, he was signed by P.T. Barnum to present his magic and mimicry at the Aquarial Gardens. As he aged, he became known as "Old Harrington" and when he died on May 4th, 1881 his obituary was printed in newspapers throughout the United States.
Pinard transforms into Jonathan Harrington during the performance in both character and period costume to present mysteries and wonders from the nineteenth century with the help of audience members.
To hear Virginia Prescott interview Andrew Pinard on NHPR's Word of Mouth about his performances as Jonathan Harrington click here.