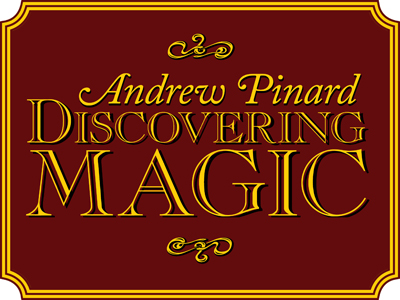 This "mind-numbing, jaw-dropping, eye-opening" experience takes audiences on a guided tour of the impossible and the absurd. Using only the most ordinary of objects, accomplished actor, conjuror, puppeteer, storyteller, and award-winning performer Andrew Pinard brings the ordinary to life with the most surprising results. The only show of its kind in New England, audiences have traveled from Massachusetts, Maine, Vermont and New Hampshire to experience sleight of hand, con games, psychology, history, science, comedy, cognitive development, political spin, and more through the eyes of a "perceptual engineer" on his quest to explore distortion and guile.
Designed for intimate spaces, Discovering Magic provides the rare opportunity to sit practically onstage with the performer during each sixty-minute performance and experience miracles up close. Audiences are ensured the closest vantage point yet they will be unable to believe their eyes. Members actively participate in the performance, making every show a unique, interactive experience. This is your invitation to leave the mundane world behind and enter a magical realm where nothing is what it seems.
"Magic occurs when audiences are engaged emotionally and intellectually in a gentle tug of war between what is possible and what may be possible." Pinard continued: "I think of the experience as transcending reality. The main tools in my bag of tricks are imagination and expectation, both of which are provided by the audience! Add a dash of psychology, a splash of technology, a bit of choreography, a gallon of showmanship and an enthusiastic, engaged audience and you have a unique experience that will be remembered forever." When asked about the show he replied, "I look at each performance as an episode in a series. In our first season, I featured classic con games, historic magic and introduced audiences to some iconic performers that they may never have heard of, but whose work influenced me and thousands of other magicians. In the upcoming season, I have plans to more deeply involve the audience in the process with some new surprises to come as we explore the world on our quest to discover magic."
The New Hampshire State Council on the Arts has referred to his "impressive ability with sleight-of-hand." After attending the premiere episode of Discovering Magic, Rick Broussard, Editor of New Hampshire Magazine, wrote: "Your show is remarkable, Andrew. Anyone who hasn't seen it owes it to themselves to go."
Don't miss the chance to experience the magic.
"Your show is remarkable, Andrew. Anyone who hasn't seen it owes it to themselves to go."–Rick Broussard
"Awesome show Andrew! The perfect balance of amazement and humor. You made my son's night …. thanks!"–Matt Fish
"Excellent show! Engaging, humorous and constantly surprising! A wonderful evening!"–John Tousignant
UPCOMING PERFORMANCES
HATBOX THEATRE. Discovering Magic has monthly performances at the new Hatbox Theatre at The Steeplegate Mall, 270 Loudon Road, Concord, NH. Please note that Hatbox has their own entrance on the south side of the mall directly between Chico's and The Bon Ton entrances. Click here for more information on show dates and times or to buy tickets for an upcoming performance. Tickets are also available at the door (limited seating available).