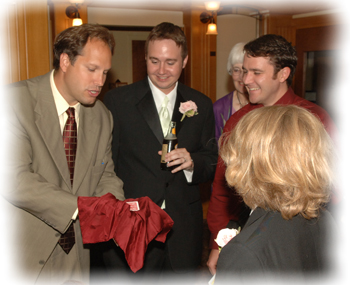 This exhibition of sleight-of-hand artistry is no ordinary magic show. This is a "mind-numbing, jaw-dropping, eye-opening" kind of experience. Using only the most ordinary of objects, award-winning performer Andrew J. Pinard leads his audiences on a guided tour of the impossible and absurd. With skills developed from his studies in theatre, magic, puppetry, comedy, juggling, and the Vaudeville stage, Pinard causes the ordinary to come alive with the most surprising results in each of his performances.
Designed for intimate spaces, audience members attending performances of Up Close & Magical have the rare opportunity to sit "onstage" with the performer and witness miracles almost in their laps. With almost every seat a "front row seat," audiences are ensured the closest vantage point yet they will be unable to believe their eyes. An interactive experience, members actively participate in the performance, making every show unique. With his engaging personality, Pinard explores the magical world around him, inviting audiences to share in the magic.
"Magic happens in our minds." Pinard says. "When we are young, everything we experience is magic. As we grow older, logic dictates our life and we lose the sense of fascination with how amazing the world really is. The magic doesn't leave our life, we outgrow it and put on blinders to its very presence. It hasn't left us, rather we have left it. It is the job of the conjurer, the wonder-worker, the seer and the magician to help us perceive that which we have learned to ignore. Magic is vital to our very soul; it inspires wonder and creativity and for a brief moment reminds us how much we don't know and how much we have left to perceive. It reconnects us with the inner child buried within ourselves."
An entertaining mix of theatre, sleight-of-hand, comedy, and storytelling, Up Close & Magical offers the audience a chance to leave the mundane world behind and enter a magical realm where playing cards hunt and consume each other, office supplies melt through one another, and nothing is what it seems.